| | |
| --- | --- |
| Product Display | ●Product all with pass ISO9001:2000 quality system attestation |
High Frequency Plastic Welding Machines
(Double Side Trample,Rotary type,Push type)
●Double Side Trample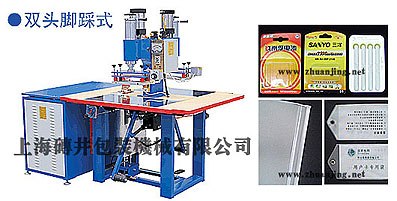 ●Push type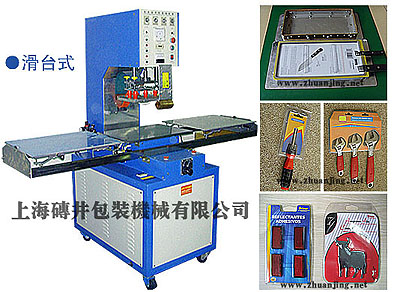 ●Rotary type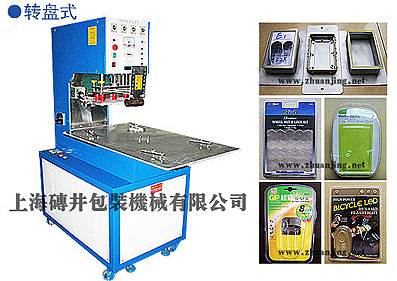 High Frequency Plastic Welding Machines (Double Side Trample, Rotary type, Push type): High Frequency Plastic Welding Machines used for various plastic welding and melting meanwhile exscind the useless edge automatically. It is fit for welding PVC,PVC, PVC,Card, special plastic material (PE, PS, PC, PET and APET). Blister packing (double blister welding, blister and card welding), leather stamp, logo, writing case, toys, plastic cover, cushion and packaging bag welding; three-dimensional letters press and bronzing.

Machines features:

※Steady frequency: This Machines strictly adopts industrial wave band 27.12,40.68 MHz according to the provision of nations "radio interference committee"(CISPR) with steady frequency device and prevent the leak of magnetism, have no interference about the outside environment.

※Spark restrains system: This Machines has high sensitive Spark restraint electro-circuit can check out the imbalance current which can bring spark and cut it off, meanwhile alert the operator.

※Vibrate current setting: The output can be adjusted by adjuster according to thickness of material and the size of products, which ensure the quality of welding and promote production.

※Security protection: This Machines has security protection system of exceed voltage and electric current.
Mechanical parameter:
Product name

Double Side Trample

Rotary type

Push type

Model number Model

Flap to concuss frequency

The feet step/the spirit move

The Machines activity be apart from(mm)

Remarks:The 10 KWs above Machines type make to order. In order to beg an equipments usage, if have design to change, the Nu not another line notify, please understand.
●

Plastic Welding Machines